Time Served
Join Date: Dec 2004
Location: Wylie, Texas
Posts: 779
Bad day at the range friday.
---
Did not have such a great day at the firing range friday.
I have been having some issues with what I have been calling misfires, where I would swear it was firing without the door closing all the way. Out of 20 rounds in the magazine 19 would be nice pleasant *crack* and then one of them would would *boooom*, and the casing would fail to eject. This started at about 1500 - 2000 rounds through the rifle. Over Labor day weekend it began doing it every magazine.
So I contacted Ray and he gave me some things to look at and while looking at them I gave the rifle an extra thorough cleaning, even breaking down the magazines and cleaning them out. Took it out to the range to try it out, one of the suggestions Ray had was to use the higher quality ammo so I took a couple of boxes of CCI Minis with me. Loaded 2 magazines with CCI and 3 with the Remington I have been using. I alternated which the loads as I fired to see if I could tell any difference, ie a mag of rem then a mag of CCI. Got through about 200 total rounds with only one misfeed where the first CCI round misfed and got mushed into the top of the breech face. Then with less than 50 rounds later I had a really bad misfire, bad enough to make me call it a day. It was a Remington that did it. I would have sworn the bullet must have jammed in the barrel and blow out the back of the casing by the look of it. But when I got home I used the cleaning rod to ease down the barrel and check for a jam, nothing. The casing slid free with no problem so I don't know what to think happened. Sent an email to Ray to see about sending it in for them to look at. I just don't trust it not to exploded in my face at the moment. Ah well, none of my toys ever work with out some tuning, and it is still less trouble that either of my Mustangs lol. I have been shooting it every weekend since I bought it so I dunno what I am going to do while it's away for service, at least my Sigma is working fine so I have something to play with.
Here's the pics I took when I got home. Click for bigger versions.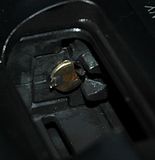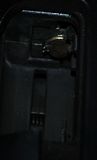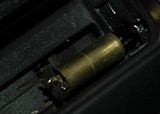 ---
Jon
CLICK for Kate's Story
Click to Listen

WTB - SIG Mosquito