Time Served
Join Date: Dec 2004
Location: Wylie, Texas
Posts: 779
Looking for scope / optics reccomendation
---
Well I went ahead and bought a GSG5 last month since I was kinda wishy washy on which pistol I wanted and its a really fun / cheap gun to shoot even though its not exactly cheap for a .22.
I'd like to get some sort of optics for shooting out at longer ranges. I went to the garland range on friday and while I can hit the freebie targets with no problem at 50yds I cant tell where the bullseye in the center is.
Here is what I was thinking about getting but I dont have enough experience with scopes to know if its worth the $. I would like to spend <$100 and its has to be able to mount to one of these weaver type upper rails. Also needs some sort of magnification I like shooting anywhere from 50-100yds generally, not looking for a red dot style.
http://rrages.com/sight/4x32/index.htm
Here's some pics to satisfy any gun porn requirements.
My target from friday. 450 rounds later, I apparently shoot left and high. Not sure if its the gun yet or me trying to find a comfortable way to shoot off the benches.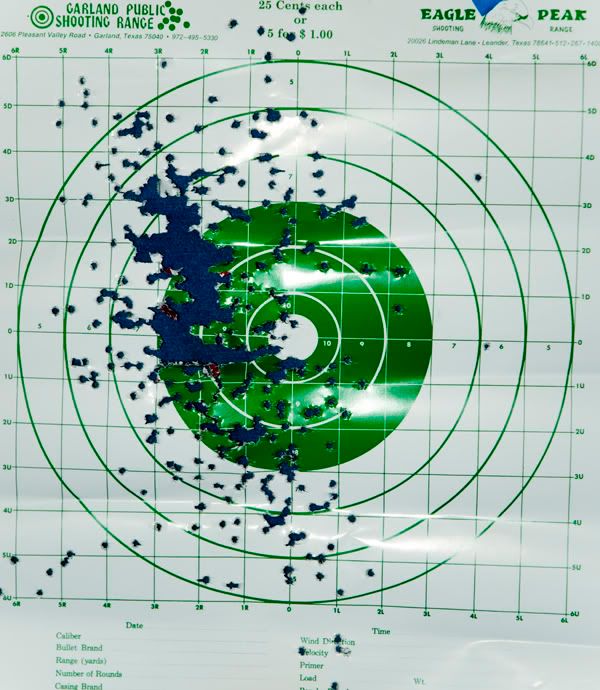 The rifle the way it was when I brought it home.
Here its is after fitting a front rail system to it. Still need to remove some more material off the back collar to get it perfectly parrallel to the barrel.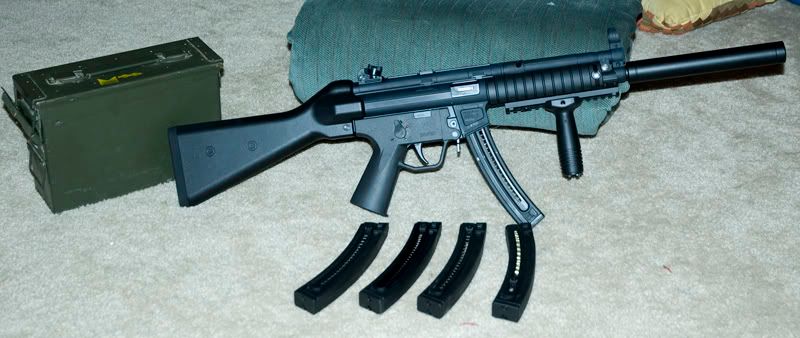 Some pics of it apart, really easy to take part for a basic and quick clean.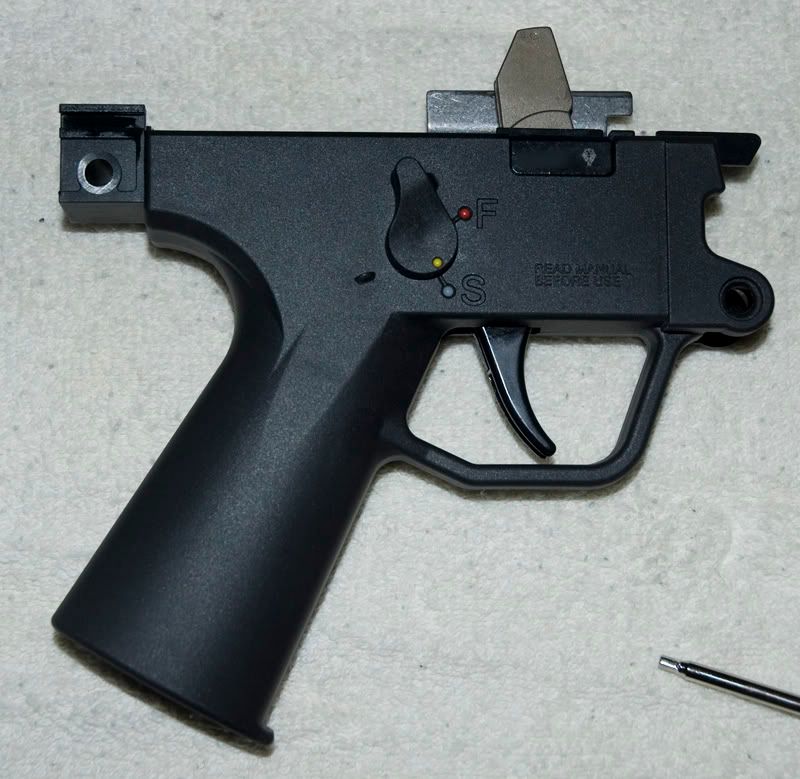 ---
Jon
CLICK for Kate's Story
Click to Listen

WTB - SIG Mosquito
I wish I were cool...
Join Date: Apr 2001
Location: Austin
Posts: 722
I got to shoot my 1st Anv. Edition GSG over the 4th of July weekend... expensive? Yes, but VERY FUN!!!! and cool looking
---
The Cobra has run a best of 13.58 ET finally 104 mph on stock engine, no blowers, no turbos, no NOS! Note I said HAS run, now it sits on bald tires in the driveway, but the speedometer and A/C work again!!! 2003.5 Mazdaspeed Protege Zoom, Zoom, Zoom... It's turboed I get three Zooms biatch!!!!
Hey baby... how about a little Boom Boom in my Zoom Zoom?
Well, cheap nikon's can be had for around 100 dollars. Don't waste your money on a piece of shit scope that will lose it's zero in a few months. On a .22 you can get away with it, because it has almost no recoil. But at least try to pick up a lower end model of a decent brand.