Lifer
Join Date: Oct 2006
Location: fort worth
Posts: 1,224
who has owned or shot
---
a sig mosqito the 22lr pistol

ive been wanting one for shop defence but it has to be small due to people on both sides of building.

and i think this would be fun to have as well
Punk Ass Newbie
Join Date: Sep 2005
Posts: 72
Quote:
Originally Posted by franks
a sig mosqito the 22lr pistol

ive been wanting one for shop defence but it has to be small due to people on both sides of building.

and i think this would be fun to have as well
Get a shotgun with bird shot would do better than the 22.
Punk Ass Newbie
Join Date: May 2005
Location: Longview
Posts: 56
I have shot a sig and I prefer the walther p22. more accurate but both just as reliable.
---
06' Nav and looking for another Mustang...
95' Vette coupe white... Ex-wife enough said...
02' White L CAI, 2.76 upper, 4Lbs. lower, aux. tensioner, oil seperator, traction bars, cobra style cowl hood, Granatelli 95mm MAF, C&L intake tube, TR6's, Tune by Mike Wilson, New #'s 401RWHP/570RWTQ(through the power robbing 4R100). sold
97' Tripple black Cobra vert Saleen speerster cover. sold
Got Lateral G's??
Join Date: Jan 2002
Location: Your mirror about to pass your ass!
Posts: 9,822
you are going to want something a little more powerful than that 22lr...it would be like flipping them in the ear. Get a 12 or 20ga with birdshot or small buckshot....just keep in mind you only have about 5 or 6 shots.

Go to a gun store and look in the used counter for a cheap 9mm...you can find some great deals.
---
Looking for sponsorships for 2010 on the car above... PM for details and schedule.
I'm a mod motor GOD! LOL!
Lifer
Join Date: Oct 2006
Location: fort worth
Posts: 1,224
the problem with a bigger gun is the walls are just sheet tin and there are several buildings close by. i just wanted the 22 version so i can shoot it in my back yard sometimes but i would love to get a 9 or a 40 but im affraid it will travel too far



shot gun is best idea but no where to put it that we can get to it in a pinch
Time Served
Join Date: Jul 2007
Posts: 726
darenger (sp?) in a 410 would do the trick
Lifer
Join Date: May 2005
Location: naked on the bean bag chair eating cheetos
Posts: 1,109
I have a 357 that I keep rat shot in , I shot a few snakes with it and was amazed at the destruction.
---
******If you can't feed em don't breed em******
Quote:
Originally Posted by SOLOW55
I have a 357 that I keep rat shot in , I shot a few snakes with it and was amazed at the destruction.
Agreed. I'd go with a bigger cal. and use rat shot or some of the lower penetration rounds. A .22 bullet will penetrate walls easily but has NO knockdown power for self defense.
On the other hand, they're great for plinking.
Better get one of each. Can't have too many firearms!
---
DFWMustangs.net
Lifer
Join Date: Oct 2006
Location: fort worth
Posts: 1,224
ratshot, never thought


will it work with my sig .45?
You looked at any Ruger .22s? They have some good target pistols.
---
CANADIANS = DOUCHERS
Time Served
Join Date: Jan 2007
Location: Hurst
Posts: 288
Frangable
---
I have a .45 with "frangible" rouds I picked up at the Fort Worth gun show. The idea is to have a large cal. round with some punch, but with very limited penetration. Police departments like them for the reduced risk of through-and-through shots endangering bystanders. Air Marshals use them so they do not punch holes through the fuselauge (how do you spell that?). They are good in the home because you will have a round that discenegrates when it goes into the sheetrock. It may blow a hole through the wall, but the fragments are too small to cause great harm and have lost most of their inertia.

What people tell you is right about .22s. You have to place the shot very well to be imediatly effective. While your burgler or assailant may not drop to the floor from a .22 shot, he might just as well die in three hours from internal bleding...but you are already a victum by then.
Shotguns are big and bulky. They are also devistating weapons. The unmistakable sound of a pump action racking a round into the tube WILL imeadiatly turn your bad guy around every time. If you do not NEED a handgun, do the "low brass bird shot" thing in a 12 gauge.
---
Alright people, pay attention:
"To Many " is an address like in a toast or tribute while "Too Many " is an implication of excess.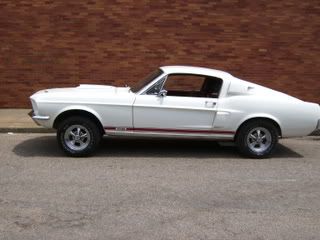 I think I am the only non-fox guy out here!
butt raping a troll @ AMS
Join Date: Apr 2001
Location: Denton
Posts: 513
just use what you have with gold dots and dont miss.