Punk Ass Newbie
Join Date: Dec 2004
Location: waco, tx
Posts: 73
someone buying youa a gun???????
---
ALright guys im about to buy a beretta Cx4 Storm 9mm. But here is the catch....ive got a buddy that works at a sporting good store that can get me $100 off of the gun. If he bought it for me it would obviosly be in his name. How would i go about getting it put in my name or is that even nessacary? This gun is considered a rifle if that woudl make a differece.... ANy help guys?>??/
Give him the money, take the gun, and it's as much in your name as it's going to get. Maybe write out a receipt, have him sign it, and keep it for yourself if you're worried about it.
---
Quote:
Women: vaginal life support.
Time Served
Join Date: Apr 2003
Posts: 531
When he completes the transfer form it askes if the weapon is for someone else. In general the ATF looks down on people purchasing a gun for an adult someone else that could buy the gun for themselves. As stated above, fill out a receipt and keep it.

Eric
---
93 Black Mustang GT


what's the big deal? have him buy it for himself, then buy it from him.
Don't commit a crime with it. Who gives a fuck?
Quote:
Originally Posted by Cooter
what's the big deal? have him buy it for himself, then buy it from him.
Exactly. The original buyer can always decide he doesn't want it anymore and sell it to whomever he decides.
---
DFWMustangs.net
Time Served
Join Date: Jan 2007
Location: Hurst
Posts: 288
Do it!
---
What makes it even right for the feds to treat a rifle like it's a sacred purchase anyway? Their end game is to one day force you to liscense them and pay a tax to own it. Buy your friend's rifle. Buy three of his rifles and sell them to your friends. But steer clear of the handguns man. Everybody knows that handguns kill people all by themselves.
---
Alright people, pay attention:
"To Many " is an address like in a toast or tribute while "Too Many " is an implication of excess.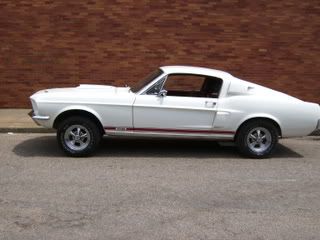 I think I am the only non-fox guy out here!
As long as you can legally own a firearm.
Sounds like a good birthday present.
---
There is NOT A GUN REGISTRATION in Texas.

Just have him buy it, and you buy it from him. Private sales of handguns/long guns require NO PAPERWORK.
---
2006 Mustang GT
I would've done it. What I wouldn't have done is post about it on a public forum.
---