Vlad Guerrero
---
I have a serious love/hate thing going with this guy. I hate him when he is playing against Texas, but love him now that he is a Ranger. He is pretty incredible!

That is all.
---
One
Big
Ass
Mistake
America

If you like the IRS, DMV and the Post Office, you will love Obamacare!

"An armed society is a polite society. Manners are good when one may have to back up his acts with his life."
Robert A. Heinlein

I have to agree with a quote from former Treasury Secretary William E. Simon: "Bad politicians are sent to Washington by good people who don't vote."
I always liked watching that guy hit, even if it was against Texas. And I thought they made a huge mistake bringing him here, since he's old and washed up and can't hit anymore. So far, I've been wrong. I hope I stay that way.
---
Quote:
Women: vaginal life support.
Time Served
Join Date: Jan 2007
Posts: 723
I hear ya! I'm just glad he's on the Rangers side now.
---
Quote:
Originally Posted by Sean88gt
Meh...I dunno why she likes it. It's like she put it on a pedestal because it is the gravy of life.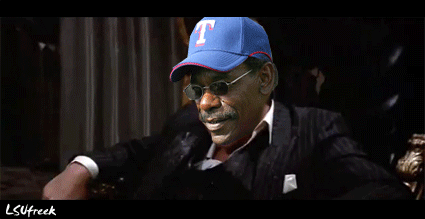 The homer he hit last night was ridiculous. If I was the pitcher I would have no clue where to pitch him.
---