BELIEVE, IT'S TIME!!!!
Join Date: Mar 2001
Location: A little here, a little there . . .
Posts: 14,997
Electric Vibrating Football Game on Sellout.Woot
---
I'm buying one.
http://sellout.woot.com/
(9/21/2009 Today Only of course)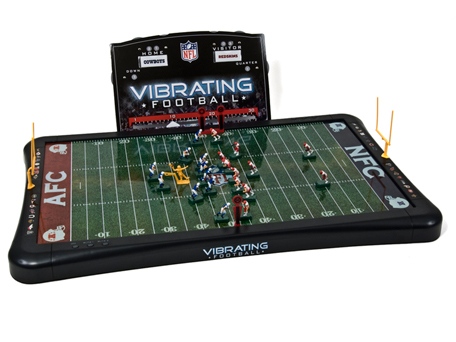 NFL Vibrating Football
$17.99 + $5 shipping
Condition:New
Product:1 Excalibur NF07-08 NFL Premium Edition Vibrating Football
Football Widower
Sounds like Melissa's playing electric football again. It's great that my wife is becoming such a football fan, even if she only wants to play it by herself.
She's never shown any interest in football before. She thinks an Arizona Cardinal is somebody appointed by the Pope. But as soon as I brought home the NFL Premium Edition Vibrating Football Game, and showed her how it vibrates to move the players around the field, she locked herself in the bedroom with it for like an hour. Funny thing is, when she brought it back out, she hadn't even taken the players out of the box! I guess I shouldn't be surprised that she's a pretty slow learner. Football can be a complicated game.
Since then, Melissa takes it into the bedroom to practice alone, like, two or three times a day. I can't wait until she's ready for a competitive game. We'll set up formations and throw passes and kick field goals just like in the glory days of electric football. Maybe we'll even set up our own league. I bet she's working on a killer game plan – just the other day she told me she's exploring the possibilities of the dual-speed vibration control.
I keep telling her she should watch a football game or two, to pick up some strategy tips or learn the rules, but she says she's the kind of person who learns better hands-on. Hey, remind me to go buy more C batteries, OK? Melissa's already gone through, like, twelve of them. I guess she must really love football.
Warranty: 90 Day Excalibur
Features:
■Challenging and exciting strategy game that tests your play making skills with a team of eleven players and one multi-functional quarterback that passes, kicks, and runs
■Call your own plays, set up the offense and defensive formations, working to out think and out maneuver your opponent
■Read your opponent and direct your blockers, your skill and luck determines who will emerge victorious
■Includes 12 (6 for each team) 360 degree control bases that offer superior player control
■360 degree control base allows you to steer the player left or right while playing
■Dual speed control allows the player to control how fast the game board vibrates
■Officially licensed by the National Football League
■Use the scoreboard to keep track of distance and the score
■Set the match up using the provided team logos
■Magnetic scrimmage marker tracks the line of scrimmage accurately, and stays in place while vibrating
■Magnetic first down marker tracks how far the offense needs to drive to gain a first down
■Use the goal posts to kick field goals and extra points
■Game Dimensions: 30 6/8"(W) x 19 7/8"(H) x 2" (D)
■Battery-power lets you play anywhere without wires
■Operates on 3 C cell batteries (Not Included)
■Video of game in action
Additional Photos:
■Excalibur NFL Vibrating Football
■Players Up Close
■Score Board
■Blimp Cam
In the box:
■NFL Vibrating Football Game Board
■32 Team Logos
■13 AFC Players
■13 NFC Players
■2 Multifunction Quarterbacks Kicking Leg
■2 Goal Posts
■First Down Chain
■Scrimmage Marker
■12 Stand Bases
■5 Footballs
■Scoreboard
■Users Guide
---
"The Pill": Helping control the Educated Population since 1960


Improve America's Education System: Have the High School Drop Outs Spayed and Neutered.


Stupid and Lazy breeds more Stupid and Lazy.


"Democracy is the worst form of government, except for all those other forms that have been tried from time to time." - Sir Winston Churchill


The DFWStangs Political Forum: Never underestimate the power of stupid people in large groups.
I got one, its going to be the St. Louis Rams vs. 49ers. Bringing back the greatest shof on turf with Marshall Faulk, Torry Holt, Issac Bruce, Kurt Warner, Ricky Proehl, Tone Horne, Orlando Pace, Adam Timmerman on offense. For defense its going to be D. Farr, Kevin Carter, London Fletcher, Mike Jones, Decter Mcleon, Dre Bly. Kicker Jeff Wilkins