Lifer
Join Date: Jan 2004
Location: smithville
Posts: 1,993
gov. debate pole numbers in
---
these numbers where just broadcast on kvue news from tonights debate.


kay baley 10%
medina 68%
perry 22%

medina has the least cash to play with but she'll be hard as hell to beat on the issues.

GO MEDINA!
---
RON PAUL '08
She was great! God I hope she can pull an upset.
---
CANADIANS = DOUCHERS
Time Served
Join Date: Feb 2005
Location: in the shop
Posts: 655
She did great! I sure hope enough people start waking up to her .
---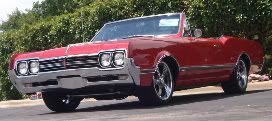 6-25-10 RIP Chloe Rene
Daddy loves you always
66' Cutlass TKO600 5-speed, C6 brakes, SC&C stage II
Sold
on the way to new home in CA
06' Mustang GT Convertible 5-speed wife's new daily
Lifer
Join Date: Jan 2004
Location: smithville
Posts: 1,993
texas needs a leader like her.
---
RON PAUL '08
Rockin' da fumanchu
Join Date: Nov 2005
Location: On the straight and narrow,stumbling at best, only by Gods grace.
Posts: 7,224
Go Medina!
---
Listen to my buddy, Jeff Bolton, from 6-9 AM Mon-Fri.
Obamanomics = Trickle Up Poverty
Think you need to format/reinstall your OS(XP), read
this
first.
Banned
Join Date: Apr 2008
Location: Die Wundergroin Schlägt Wieder Zu!
Posts: 2,484
Unless she drops some huge bombshell, I know who I'll be voting for. Medina!
I am in also. I am so tired of all the incumbents claiming they have seen the light and that they will go conservative. Why the hell didn't you do it when you had the chance and before we revolted?

I am voting for Medina also.
---
One
Big
Ass
Mistake
America

If you like the IRS, DMV and the Post Office, you will love Obamacare!

"An armed society is a polite society. Manners are good when one may have to back up his acts with his life."
Robert A. Heinlein

I have to agree with a quote from former Treasury Secretary William E. Simon: "Bad politicians are sent to Washington by good people who don't vote."