UNFUCKWITHABLE
Join Date: Feb 2003
Location: Putting the sensual in nonconsensual since 1984
Posts: 12,482
Jon Stewart Mocks Obama for Using Teleprompters in a Sixth Grade Classroom
---
Quote:
Here is video of Jon Stewart last night mocking President Obama and his advisers for making the huge gaffe of setting up the Presidential podium and his teleprompters in a sixth grade classroom recently.

Obama was not using the prompters to speak to the students, as some have erroneously reported, but he did speak to the media in another classroom using the podium and the teleprompters. The backdrop of the elementary school classroom made the appearance look totally ridiculous! It does make you wonder why no one on the President's team - or Obama himself - had the common sense to think it looks silly to drag TOTUS to a school classroom.
TOTUS! LMFAO!
---
.

Audentes Fortuna Juvat
The only way this idiot President will ever truly realize how bad he is will be when the final votes come in from his loss in '12. Of course at first he will still blame it on Bush, but the next day or two he will come around to the reality of what happened.
---
One
Big
Ass
Mistake
America

If you like the IRS, DMV and the Post Office, you will love Obamacare!

"An armed society is a polite society. Manners are good when one may have to back up his acts with his life."
Robert A. Heinlein

I have to agree with a quote from former Treasury Secretary William E. Simon: "Bad politicians are sent to Washington by good people who don't vote."
Banned
Join Date: Apr 2008
Location: Die Wundergroin Schlägt Wieder Zu!
Posts: 2,484
That shit has gotten outta hand. What a douche whistle. Teleprompters in a 6th grade classroom, really?
And Stewart is still funny.
DFWMUSTANGS.NET
Join Date: Jun 2007
Posts: 3,635
Quote:
That shit has gotten outta hand. What a douche whistle. Teleprompters in a 6th grade classroom, really?
And Stewart is still funny.
Very. Just wish he was a centrist.. He's making fun of Obama because he isn't LEFT enough for his taste.
Lifer
Join Date: Nov 2001
Location: Ellis County
Posts: 18,368
It's funny how a guy would change his name to hide his jewish heritage, but is so critical of others...hmmm.
---
CHL holder and Conservative...AKA "Domestic Terrorist"
WRECKIN' BALL BITCHES!
Join Date: Sep 2003
Location: listening to the box of excuses why fourteen3s million dollar car wont run a number...
Posts: 9,734
Man, it really seems everyone is getting fed up, as they should. This guy is driving us in the dirt and making us look like a fool while doing it. I would normally say i am surprised at such a move, but I really cant. How bad is that?
---
resident heater core/ring&pinion installer
Obama is going to become the man without a country. He's pissed the middle and right off. The left is fed up with him. I just wonder when the political distancing will begin with his advisors?
---
1/19/09, the last day of Free America.
Pericles "Freedom is the sure possession of those alone who have the courage to defend it. "
"[T]he people alone have an incontestable, unalienable, and indefeasible right to institute government and to reform, alter, or totally change the same when their protection, safety, prosperity, and happiness require it." --Samuel Adams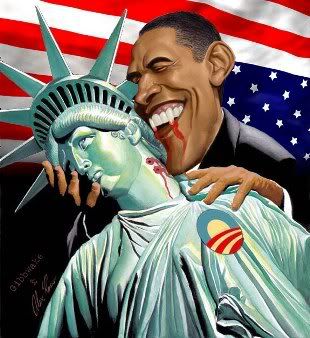 I hope john stewart kills himself.
---
Quote:
i think thedark1337 is a pretty cool guy. eh plays the game and doesnt afraid of anything
Quote:
- later on when i was about 16 i suddenly came to the realization that i had zero appeal to women and i said "i'm going to say i'm gay from now on"
Quote:
I hope john stewart kills himself.
Heh, he is WAY down on my list of who I hope kills themselves.
...
---
Quote:
I hope john stewart kills himself.
I don't know how you can't like Jon Stewart. He's such a funny smartass.
He's funny as long as he's not interviewing idiots like Barney Frank. When he gets around the likes of the asshole liberals that are balls deep in fucking our country up, he wants to scorn them, but doesn't have the sack to go against the liberals signing his paycheck.
http://www.thedailyshow.com/watch/mo...nterview-pt--2
---