Sovereignty Lost
---
Scary stuff


DFWMUSTANGS.NET
Join Date: Jun 2007
Posts: 3,635
Scary to think about the shit we are about to go through.
Where is the document, for review?

--Scott
---
"Jesus has my heart, but Whiskey has my liver" --Jason Boland
I Я Invizabul
Join Date: Sep 2006
Location: Candyland
Posts: 4,909
Quote:
Where is the document, for review?

--Scott
http://wattsupwiththat.files.wordpre...hagen-2009.pdf
This guy is taking it out of context though ... on page 28 it clearly states that it will not impact the sovereignty of any nation. If anything it will be a kick in the balls to the taxpayers (us).
And if we pull out of it? Who's going to stop us?

Obama is an evil man.
---
1/19/09, the last day of Free America.
Pericles "Freedom is the sure possession of those alone who have the courage to defend it. "
"[T]he people alone have an incontestable, unalienable, and indefeasible right to institute government and to reform, alter, or totally change the same when their protection, safety, prosperity, and happiness require it." --Samuel Adams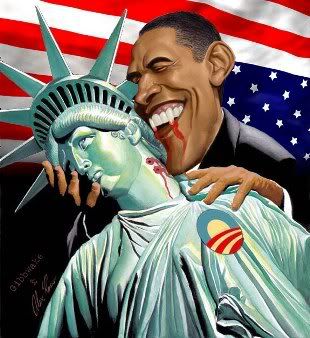 A treaty cannot supersede the U.S. Constitution. And it would have to be ratified by 2/3 of the Senate before Obama could sign it into law.

I think this guy is stirring up a lot of dust with poorly phrased information. I appreciate that he is a Global Warming skeptic, but I have my doubts on a lot of his discourse in that video.

I'd like to find more info on this. Interesting video.
---
Quote:
it was not a problem to bring money to his house at 10pm.so why is it a problem to call and bitch.it wasnt a problem when we were all sitting around smoking pot together.yes i said it we all were smoking pot together.what now stupid.