New SCOTUS Nomination
---
Quote:
WASHINGTON – President Barack Obama named federal appeals judge Sonia Sotomayor as the nation's first Hispanic Supreme Court justice on Tuesday, praising her as "an inspiring woman" with both the intellect and compassion to interpret the Constitution wisely.
Obama said Sotomayor has more experience as a judge than any current member of the high court had when nominated, adding she has earned the "respect of colleagues on the bench," the admiration of lawyers who appear in her court and "the adoration of her clerks."
"My heart today is bursting with gratitude," Sotomayor said from the White House podium moments after being introduced by Obama.
If confirmed by the Senate, she would join Justice Ruth Bader Ginsburg as the second woman on the current court, the third in history. She would succeed retiring Justice David Souter.
Obama and Sotomayor both noted the historic nature of the appointment. The president said a Hispanic on the court would mark another step toward the goal of "equal justice under law."
Sotomayor, 54, said she grew up in poor surroundings and never dreamed she would one day be nominated for the highest court.
Obama has said he hopes she can take her place before the justices begin their new term in October.
Democrats hold a large majority in the Senate, and barring the unexpected, Sotomayor's confirmation should be assured.
The Senate Republican leader, Sen. Mitch McConnell of Kentucky, issued a statement that said: "Senate Republicans will treat Judge Sotomayor fairly. But we will thoroughly examine her record to ensure she understands that the role of a jurist in our democracy is to apply the law evenhandedly, despite their own feelings or personal or political preferences."
http://news.yahoo.com/s/ap/us_obama_supreme_court
---
Working on my project Stang
She has a history of being empathetic and racist which pulls the blindfold off of Lady Justice while throwing impartiality out the window. She'll be confirmed because no in D.C. has the stones to stick up for the Constitutional and is afraid of coming off as racially insensitive.
---
1/19/09, the last day of Free America.
Pericles "Freedom is the sure possession of those alone who have the courage to defend it. "
"[T]he people alone have an incontestable, unalienable, and indefeasible right to institute government and to reform, alter, or totally change the same when their protection, safety, prosperity, and happiness require it." --Samuel Adams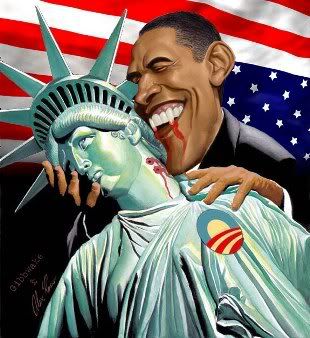 Is it too much to ask a Judge have a view on the Constitution that isn't based on feelings and that doesn't take her race or sex into account?
Time Served
Join Date: Aug 2008
Posts: 210
Meanwhile N Korea tests a nuclear weapon and test fires TWO missles in a 48 hour period. "What can I show you in this hand to make you forget about the other..."
---
Mike Huntzinger
Sales Mgr
[email protected]
817-849-3221
Quote:
Meanwhile N Korea tests a nuclear weapon and test fires TWO missles in a 48 hour period. "What can I show you in this hand to make you forget about the other..."
This is exactly correct. Obama and his people will ultimiately end up being the undisputed masters of this hand trick. It will probably look like he is freaking juggling since so many problems and scandals will come to him and his Presidency.
---
One
Big
Ass
Mistake
America

If you like the IRS, DMV and the Post Office, you will love Obamacare!

"An armed society is a polite society. Manners are good when one may have to back up his acts with his life."
Robert A. Heinlein

I have to agree with a quote from former Treasury Secretary William E. Simon: "Bad politicians are sent to Washington by good people who don't vote."