Thats going to suck
---
sLoW 5.0 waitin on parts...

One
Big
Ass
Mistake
America
Yea, good luck with that. Even if it passes it will be almost impossible to enforce. States would have to sue everyone.
The reason I buy on the internet is to save money on taxes. If they put on taxes + shipping, it won't be worth it.
---
"His tricked out trans am guzzles every dime he brings home"
2004 RC SWB F150 5.4 - Saleen S/C'd 5.4 3V
1979 Pace Car - Not the usual mods
1984 Gt-350 - Trickflow'd 302
1992 Coupe - Vortech'd 393
1997 Viper GTS - H/C and Giggles
Buy my F-150 Vortech Setup!
-
Link
Fuzzy Flounder Fishin'
Join Date: Nov 2007
Location: On the express train to management training in hell.
Posts: 2,547
Quote:
lol at national gov trying to control everything.
fixed
---
┌∩┐(-_-)┌∩┐
That's directed at you, UHHHbama
Quote:
The reason I buy on the internet is to save money on taxes. If they put on taxes + shipping, it won't be worth it.
Exactly. And it'll stiffle growth as all taxes and government involvement do. Fuckers.
---
1/19/09, the last day of Free America.
Pericles "Freedom is the sure possession of those alone who have the courage to defend it. "
"[T]he people alone have an incontestable, unalienable, and indefeasible right to institute government and to reform, alter, or totally change the same when their protection, safety, prosperity, and happiness require it." --Samuel Adams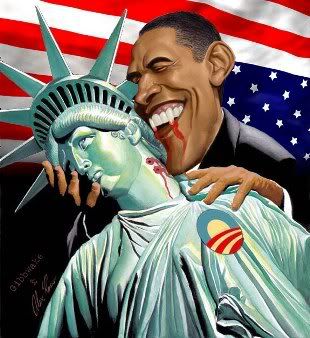 Wait...what happened to lowering taxes?
Lifer
Join Date: Mar 2007
Posts: 1,089
Quote:
Wait...what happened to lowering taxes?
They are only raising taxes on people making $250k a year.
Ah, well then. I should be okay right? I mean Obama doesn't lie, he can walk on water.
Quote:
these are actually state sales taxes, the federal government will not see any of the money, just insure the states get it. looks like texas has not yet jumped on this, hopefully they will not, but it might be a good idea to let your state representative know before they do
I know Texas has already gone after Amazon, but it's a little different since Amazon actually operates a facility in Irving. I know it seems since this happened I haven't gotten anything from Irving, it's all coming from out of state. I used to get the free super saving shipping in like 2 days, no more though.
http://www.dallasnews.com/sharedcont...2.45e5527.html
Amazon.com may owe Texas millions in uncollected sales taxes
By MARIA HALKIAS / The Dallas Morning News
[email protected]
Texans who shop Amazon.com to avoid paying sales taxes may not have that luxury for long.
The Texas Comptroller's Office is investigating whether the Internet retail behemoth, with sales last year of $14.8 billion, owes Texas possibly millions of dollars in uncollected sales taxes on purchases made by its customers in the state.
Seattle-based Amazon.com has been operating a distribution center in Irving since 2006, giving it a "physical presence" in Texas, a longstanding litmus test for when sales taxes must be collected by an online or mail-order company.
The issue came to light last month after Amazon.com Inc. sued the state of New York over whether it should begin charging customers state sales taxes, citing the federal law it appears to be breaking in Texas.
---
DamonH
2006 F150 SCrew