Who say's Obama's a puppet?
---
Quote:
Obama Thanks Himself, Irish PM Repeats Speech in Teleprompter Meltdown
Irish Prime Minister Brian Cowen reads word for word a speech that Obama had just read from a teleprompter, while the president apparently thanked himself for the invitation.

AP
Wednesday, March 18, 2009

WASHINGTON -- Irish Prime Minister Brian Cowen was just a few paragraphs into an address at a St. Patrick's Day celebration at the White House when he realized something sounded way too familiar. Turns out, he was repeating the speech President Barack Obama had just given.

Cowen was set to speak twice at the White House on Tuesday night because there were two different parties going on at the executive mansion. No matter -- he would give the same speech to the two different audiences.

But Cowen was 20 seconds into his second address when it dawned on him that he was giving word for word the speech that Obama had just read from the same teleprompter.

Cowen stopped and looked back at the president to say, "That's your speech."

Obama laughed and returned to the podium to offer what might have been Cowen's remarks. In doing so, President Obama thanked President Obama for inviting everyone over.

Earlier, the president claimed an Irish ancestry to Ireland's leader and joked to Congress that his genealogy could have helped him as a once-unknown Chicago politician.

White House fountains and sparkling wine both ran green as Obama courted Ireland's prime minister and political leaders from Northern Ireland. As Obama sought to tamp down violence in Northern Ireland, he announced Tuesday a key campaign backer Dan Rooney, owner of the Pittsburgh Steelers football team, as his choice to fill the post of U.S. ambassador to Dublin.

"Not all Americans are Irish, but all Americans support those who stand on the side of peace and peace will prevail," Obama told Prime Minister Brian Cowen in the Oval Office, praising the two countries' deep ties.

On tap for the evening's festivities -- which Obama described as "rambunctious" to East Room guests -- was green sparkling wine from a California vineyard.

The White House cocktail reception featured Pulitzer Prize-winning poet Paul Muldoon from Northern Ireland and Maggie McCarthy, a traditional Irish dancer and musician from Cork, and the vocal group Celtic Thunder. The Shannon Rovers, the official pipe band of Chicago's St. Patrick's Day festival, also were set to perform.

Obama joked about the free-flowing bar and warned his guests not to wear lampshades on their heads in front of the cameras. He later went off his remarks to get laughs about Ireland's popular stout.

"Guinness tastes very different in Ireland," Obama said. "It is much better. You guys are keeping the good stuff for yourselves."
http://www.foxnews.com/politics/firs...epeats-speech/
No, really. He's not a slave to the teleprompter.
---
'05 Redfire Mustang

"Self-government won't work without self-discipline." - Paul Harvey
DFWMUSTANGS.NET
Join Date: Jun 2007
Posts: 3,635
What....a....MORON!!


The architect of our new economy ladies and gentlemen!
Lifer
Join Date: Jan 2004
Location: smithville
Posts: 1,993
yes he's a puppet and yes he's a fucking moron!

but he gives hope.....and change......right?
---
RON PAUL '08
I wish the puppet would wrap the strings around his throat.
---
1/19/09, the last day of Free America.
Pericles "Freedom is the sure possession of those alone who have the courage to defend it. "
"[T]he people alone have an incontestable, unalienable, and indefeasible right to institute government and to reform, alter, or totally change the same when their protection, safety, prosperity, and happiness require it." --Samuel Adams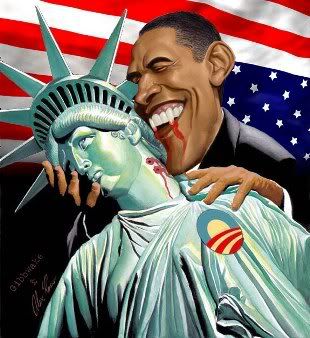 DFWMUSTANGS.NET
Join Date: Jun 2007
Posts: 3,635
Reminds me of ron burgundy

Go fuck yourself San Diego.




Lifer
Join Date: Nov 2001
Location: Ellis County
Posts: 18,368
Paint a white-face on this dude, and he's a lesser Jimmy Carter...
---
CHL holder and Conservative...AKA "Domestic Terrorist"
"Same thing with AIG," Obama said. "It was the right thing to do to step in. Like they've got a bomb strapped to them and they've got their hand on the trigger, you don't want them to blow up, but you've got to ease them off the trigger."
I hope he wasn't reading this. Comparing AIG to a suicide bomber, even if it was in LA is a little extreme.
http://latimesblogs.latimes.com/wash...town-ha-5.html
---
Buell 1125R
Raptor 700R
No fast cars though