UNFUCKWITHABLE
Join Date: Feb 2003
Location: Putting the sensual in nonconsensual since 1984
Posts: 12,482
Changefest '09 - Jon Stewart actually makes fun of Obama?!
---
As much as I don't like the guy, this is pretty good.



---
.

Audentes Fortuna Juvat
Nice! Obama will be getting destroyed by the media in short order. When, after a few years, he is still preaching the same message and nothing is happening, he will be attacked.
---
1/19/09, the last day of Free America.
Pericles "Freedom is the sure possession of those alone who have the courage to defend it. "
"[T]he people alone have an incontestable, unalienable, and indefeasible right to institute government and to reform, alter, or totally change the same when their protection, safety, prosperity, and happiness require it." --Samuel Adams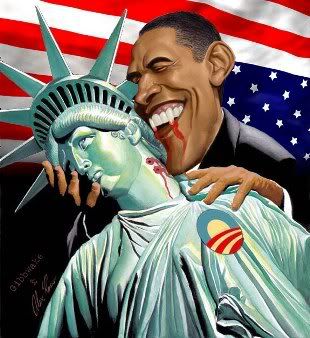 Nice!
---
One
Big
Ass
Mistake
America

If you like the IRS, DMV and the Post Office, you will love Obamacare!

"An armed society is a polite society. Manners are good when one may have to back up his acts with his life."
Robert A. Heinlein

I have to agree with a quote from former Treasury Secretary William E. Simon: "Bad politicians are sent to Washington by good people who don't vote."
Lifer
Join Date: Nov 2001
Location: Ellis County
Posts: 18,368
They've all know he's full of shit, and now that he's in, they can admit it.
---
CHL holder and Conservative...AKA "Domestic Terrorist"
PAN
Join Date: Mar 2002
Location: Under a rock
Posts: 20,154
The first clip is absolutely hilarious. I made it halfway through the second before hitting backspace to keep the bile from overflowing...
---
that's pretty funny.
it's nice to see some of the "media" actually being honest about what's going on.