Canadian Coup?
---
From what i gather : The Conservative Party up there won strong in elections 6 weeks ago. The 3 other partys got butt-hurt and started calling out for a suspension of government and that they were going to take over. A few of the party members were calling other parties and talking about a coup over the telephone, and then conservatives pointed out the culprits in public. Since this could only been overheard due to a wiretap, the opposition parties got outraged their scheming was found out due to an illegal wiretap, they want the PM on trial and are trying to do a No Confidence vote on him. Sounds like a mess and here is the new updates...



OTTAWA (Reuters) – Prime Minister Stephen Harper will address the nation on Wednesday night as part of a high-stakes political and constitutional battle over whether the opposition should be allowed to replace his government.

Harper, whose Conservatives were reelected with a minority government on October 14, has been arguing that a plan by the three opposition parties to bring down the government and install a coalition government would usurp democracy.

Cabinet ministers say one leading option Harper is considering is asking for a temporary suspension of Parliament at least until his government can present a budget with new measures to stimulate the economy in late January.

To do that, however, he would have to win permission from Governor General Michaelle Jean, who was arriving back in Ottawa on Wednesday afternoon from a foreign trip. She is the unelected representative of Queen Elizabeth, Canada's head of state. No meeting with Jean was planned for Wednesday.

The main opposition Liberal Party, the separatist Bloc Quebecois and the left-leaning New Democratic Party signed an agreement on Monday to try to bring the Conservatives down at the first opportunity and replace them with a Liberal-NDP government supported by the Bloc.

While both sides in the political crisis were crafting constitutional arguments as to what Jean should do if asked, the two sides were also actively trying to appeal to public opinion.

"It is so important for the future of this country," National Revenue Minister Jean-Pierre Blackburn said of Harper's televised address, set for 7 p.m. with an immediate reply by Liberal leader Stephane Dion.

"We believe that our government was elected. We have the most number of members of Parliament in this party to govern, and actually the people of Canada should at least be able to see what will be in our budget on January 27," Blackburn said.

The Conservatives say the opposition attempt to take over would amount to a coup, and some of their members of Parliament sported buttons with a red line through the word "coup".

But the opposition says Harper has lost their confidence and he must face the House of Commons. Confidence votes are set for next Monday but would be prevented if Parliament were suspended.

"Instead of facing that test, he's like the student who's standing outside the classroom pulling the fire alarm before he has to write the exam," Liberal Scott Brison told reporters.

It has not been an easy sell for the coalition, however, with some Canadians asking how it could be that Liberal leader Dion, whose party's performance in the October election was its worst since Canada was founded, would end up as prime minister.

"There's a lot of outrage that's manufactured, quite frankly. But at the end of the day people are wanting to learn more, wanting to understand more," Liberal Member of Parliament Mark Holland said.

The opposition parties insist it is all proper for them to come together if they do not like the government's platform. They complain that there was not enough in the government's recent economic statement to combat an economic slowdown, but what really galvanized them was a government attempt -- now abandoned -- to cut off direct subsidies of political parties.

If the government did manage to put off any showdown until late January or early February, it remained an open question whether the coalition would plow ahead regardless and bring the government down then.

"The die is cast," insisted Liberal Member of Parliament John McKay.

However, veteran Liberal Senator David Smith was among those leaving the door open a crack to conciliation.

"You'd probably have to hear a little bit of repentance and a real bona fide package that in fact represented genuine stimulus, and it's hard to prejudge something like that," he said.
DFWMUSTANGS.NET
Join Date: Jun 2007
Posts: 3,635
haha silly canadians
Socialism at work for you!
---
I thought those goofy fuckers always got along up there. Eh.
---
1/19/09, the last day of Free America.
Pericles "Freedom is the sure possession of those alone who have the courage to defend it. "
"[T]he people alone have an incontestable, unalienable, and indefeasible right to institute government and to reform, alter, or totally change the same when their protection, safety, prosperity, and happiness require it." --Samuel Adams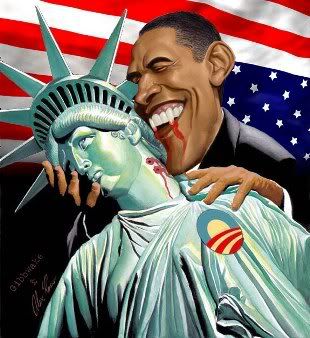 Fleshy headed mutant are you friendly?

Like no way, eh, radiation has made me an enemy of civilization...
the day i heard about it (monday) they played the Saddam takes over Canada episode of southpark.


Hey, relax guy, kick up your feet.