Obama says something I agree with!
---
Obama disagrees with high court on child rape case

CHICAGO - Democrat Barack Obama said Wednesday he disagrees with the Supreme Court's decision outlawing executions of people who rape children, a crime he said states have the right to consider for capital punishment.
I made the same mistake too! LOL
He's right though, the Fed has no business turning over a states rights issues, much like this, abortion, etc.
---
1/19/09, the last day of Free America.
Pericles "Freedom is the sure possession of those alone who have the courage to defend it. "
"[T]he people alone have an incontestable, unalienable, and indefeasible right to institute government and to reform, alter, or totally change the same when their protection, safety, prosperity, and happiness require it." --Samuel Adams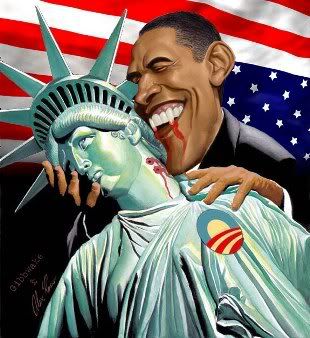 He actually does agree with a limited and narrow policy of executing criminals of heinous crimes. I was kind of shocked to read that actually considering how far to the left he is.

Doesn't mean much to me though. A broken clock is right twice a day.
---
Quote:
it was not a problem to bring money to his house at 10pm.so why is it a problem to call and bitch.it wasnt a problem when we were all sitting around smoking pot together.yes i said it we all were smoking pot together.what now stupid.