Join Date: May 2007
Posts: 600
Benny strikes again!
---
Bernanke and co are officially insane.
http://www.marketwatch.com/news/stor...&dist=hplatest
Quote:
WASHINGTON (MarketWatch) -- The Federal Reserve is actively considering creation of a lending facility that would accept "very safe" foreign collateral from "sound" global banks in case of a widespread liquidity crisis, Fed Vice Chairman Donald Kohn said Thursday.

A new global discount window is "under active study," Kohn said. "It is possible that over time, major central banks could perhaps agree to accept a common pool of very safe collateral, facilitating the liquidity management of global banks," he said, stipulating that such loans only be made to sound institutions.

Kohn's suggestion came in prepared remarks wrapping up a special conference in New York on liquidity in money markets that was sponsored by the New York Fed and the Columbia Business School. Read his prepared remarks
"Market functioning remains far from normal," Kohn said, pointing in particular to large spreads between overnight bank rates such as Libor and other short-term rates. Such large spreads indicate that markets still are in shock.

Kohn argued that the Fed and other central banks had prevented a global run on Bear Stearns and possibly other major financial institutions in March, but the emphasis of his talk was on what lessons central banks and the financial system should take from the liquidity crisis that spread like topsy from subprime mortgages to asset-backed securities to the collapse of one of the world's biggest investment banks.

"One of the things we have learned over recent months is that broker-dealers, like banks, are subject to destructive runs when markets aren't functioning well," Kohn said.

The biggest question is: What to do about the broker-dealers and investment banks that, since the run on Bear Stearns, have now been given unprecedented access to the Fed's lending facilities? Should that access be continued on a permanent basis? Or should it be provided only in emergencies?
Kohn had no simple answer to that question: "Unquestionably, regulation needs to respond to what we have learned," he said. "Whether broader regulatory changes for broker-dealers are necessary is a difficult question that deserves further study."

Permanent access to the Fed's balance sheet at attractive rates would distort markets without well-designed and well-executed supervision. On the other hand, everyone in the markets knows that the Fed will step in with funds in an emergency, so in some sense the markets have been irredeemably distorted already.

Kohn suggested that the term auction facility, which was created in December and expanded in early May, should be retained on a permanent basis after the crisis is over. The TAF allows banks to bid to borrow funds from the Fed's discount window for 28 days.

"The Fed's auction facilities have been an important innovation that we should not lose," he said. "They have been successful at reducing the stigma that can impede borrowing at the discount window in a crisis environment and might be very useful in dealing with future episodes of illiquidity in money markets."
God forbid they let the free market be free and keep itself in check.
---
1/19/09, the last day of Free America.
Pericles "Freedom is the sure possession of those alone who have the courage to defend it. "
"[T]he people alone have an incontestable, unalienable, and indefeasible right to institute government and to reform, alter, or totally change the same when their protection, safety, prosperity, and happiness require it." --Samuel Adams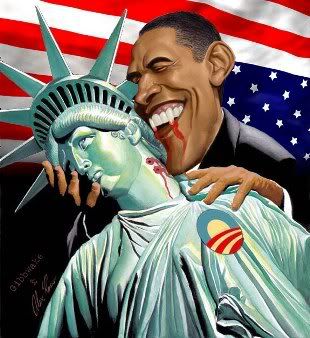 I'm starting to like ol' Bernanke.

He is either going to be given the title "Slayer of Evil" or he will change his name to G William Bernanke to pay respect to G William Miller who was Jimmy Carter's useless Fed Chairman.

While the credit markets have been tough and they probably arrived late to the party the Fed, I believe, headed off a complete meltdown in the financial markets back in March. If you think we're feeling pain now imagine if the financial markets couldn't provide anymore liquidity.

Dollars coming back, gold is down, short-term treasury yields are up, credit spreads have narrowed and the equity markets held their own.

The fed may have not solved all the problems but they've kept a very damaging crisis at bay for now.
---
My 401K is now a 400K (was 301K)