Dfw Mustangs dot net
Join Date: Aug 2006
Location: DFW Mustangs . Net
Posts: 1,276
Alot more Jackson Jokes!
---
Michael Jackson died while trying to play the guitar. Apparently he had a heart attack after his G string snapped while trying to finger A minor.

Since Michael Jackson was 99% plastic, he will be melted down and moulded into Lego so that children can play with him for a change...

McDonalds has announced "the McJackson". It's a 50 year old piece of meat between 6 year old buns.

I'm going to see a new group next month – the Jackson 4.

Michael Jackson had so much plastic surgery they are moving his corpse straight into Madame Tussauds – no need for a waxwork.

After the autopsy they stitched Michael Jackson up with a glue gun.

Jacko died of a heart attack this morning shocked when he discovered that Boyz II Men was a band, not a delivery service.

Bad timing with the Jacko death - he was due on a family vacation in Florida next week... he was going to Tampa with the kids.

It seems Michael Jackson didn't die of a heart attack at home. He was in the children's ward, having a stroke.

Due to Michael Jackson's unexpected demise, all of his dates in London have had to be cancelled. Starting with James, aged 10, Peter aged 9...

Michael Jackson's three kids are being taken over by the NSPCC. However, Madonna has already said she would take Bubbles to add to their growing collection of monkeys!

MJ is not going to be buried or cremated but recycled into plastic shopping bags so that he can remain white, plastic and dangerous for kids to play with.

MJ has just been refused entry into Heaven...
Don't blame it on the sunshine,
Don't blame it on the moonlight,
Don't blame it on the good times,
Blame it on the buggery.

An autopsy has revealed that Jacko's death was drug related. Medical experts are warning of the dangers of using 7 to 10 year old crack!

Confirmation has been received that Michael Jackson died today. Sources close to the Jackson family say the cause of death was a heart attack brought on by food poisoning. Apparently he ate some 12 year old nuts.

The world mourns the loss today of two great white women, Farrah and Michael.

Michael Jackson wanted to be cremated, and his ashes to be placed in a box of rice bubbles - just so he could experience coming out of a kids arse again.

They are going to bury Michael in South Australia - they get a 5 cent refund for recyclable plastics.

He didn't die of a heart attack. He drowned in the Hudson River. His body was found bobbing under a buoy.

Farrah Fawcett went into a coma. God appeared and said to her "Farrah, you have given so much pleasure to so many people, what would you like as your final wish?" Farrah said "I would like all the children around the world to be happy and safe". So God killed Michael Jackson.

Police have ruled out foul play in the death of Jacko, he simply tripped over a pram in his flat. Police are blaming it on the buggy.

Jacko's ghost has been sighted in a children's hospital, looks like he will continue to try to put the willies up small children.

Michael Jackson is dead. Hospital staff don't know what to do with the body as plastic recycle night is not until next Tuesday.

In a recent interview, Michael Jackson said he wants to have 10 children. He also said he wants to be a father again.
Join Date: Apr 2008
Posts: 35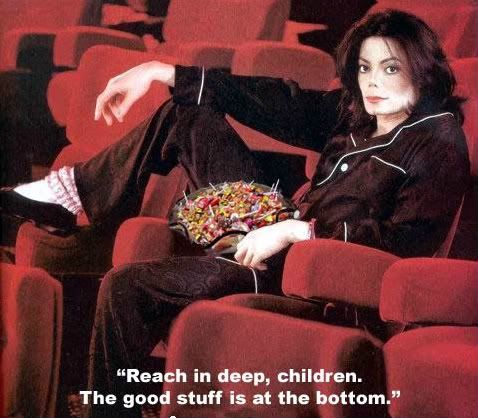 some more

Farrah Fawcett arrived at the Pearly Gates and God asked her what he could do for her having led such an honest life. Farrah asked God to simply make sure the children of the world were safe. Five minutes later, Michael Jackson died.
Michael Jackson dies of food poisoning . . . he just ate 12 year old wiener.
In Memory of the passing of Michael Jackson, All major retail stores will be having little boy's pants half off!
Since he was 90% plastic they decided to melt him down and turn him into Lego blocks so the kids can play with him for a change.
In memory of Michael Jacksons passing, Mc Donalds is introducing the MC-Jackson burger. It's 50 year old meat between 10 year old buns.
Jockeys at tomorrow's race meetings will be wearing black armbands in memory of Michael Jackson, who rode more three year olds than anyone in history.
Michael Jackson requested that his remains were to=2 0be made into plastic bags, so he can still pose a threat to children.
Difference between Jacko and Disney films? Disney films can still touch kids.
Michael Jacksons last words "Take me to the Children's Hospital!"
Q: What's the difference between Michael Jackson and Neil Armstrong ?
A: Neil Armstrong WALKED ON THE MOON and Michael Jackson raped kids.
Michael Jackson died of shock when he found out Boyz-2-Men wasn't a delivery service.
Q: What's black and white and dead all over?
A: I don't know . . . but it touched me
It's a shame; he was just going to release a song about his life too... 'Michael Jackson in A minor'
Jackson refused an injection until the doctor said he was gonna feel a small prick.
Reports of his death are incorrect. He's been found in a children's ward having a stroke.
Michael Jackson wants to be buried at sea, preferably attached to two buoys
Jackson has cancelled his upcoming dates. They were Bobby aged 9 and Tommy 11.
On his death bed Michael Jackson requested that his ashes be packaged into a box of Rice Krispies. It is believed that this is so he can have the feeling of going through a ten year old's ass one last time.
Michael Jackson passed away at 3:15pm. Which is ironically when the big hand touches the little hand.
He hasn't been this stiff since Macaulay Culkin stayed the night.
Finally we are gonna get a REAL Alien Autopsy!
The Jackson family to the funeral directors: "Do you take plastic?"
Wow, who'd have thought the last time Michael Jackson grabbed himself it was going to be his chest?
Q: What's the difference between Michael Jackson and a shopping bag?
A: One's white, made of plastic, and a hazard to your children. The other is used for carrying groceries.
With Michael Jackson gone . . . oh, wait. At least we can still make fun of Catholic priests for molesting children.
What was Michael Jackson last hit??
The floor!
Hey, did you hear? They're making a movie about Michael Jackson's life! It's called Close Encounters With the Third Grade.
It was Bubbles in the dinning room with the candle stick holder.
A pedophile, Muslim and a pop star walk into a bar . . . then has a massive heart attack
When they cremated Michael's body, due to the amount of plastic in him, they were able to make him into a slide. This way children can continue to go down on him for years to come.
---
BIGROOSTER RACING , we aint cluckin around !
Punk Ass Newbie
Join Date: Jul 2009
Posts: 10
Thunder ??

If you hear a very loud rumble in the sky at night, it's not thunder.

It's Elvis Presley beating the shit out of Michael Jackson for marrying his Daughter..