Here's Why...
---
Here's an example of why men do not write advice columns...

Dear Walter:

I hope you can help me. The other day I left for work, leaving my husband in the house watching TV as usual. I hadn't gone more than a few hundred yards down the road when my engine conked out and the car slowed to a halt. I walked back home to get my husband's help. When I got home I couldn't believe my eyes. He was parading in front of the wardrobe mirror dressed in my underwear and high-heel shoes, and he was wearing my make-up. I am 32, my husband is 34, and we have been married for twelve years. When I confronted him, he tried to convince me that he had dressed in my lingerie because he couldn't find his own underwear. But when I asked him about the make-up, he broke down and admitted that he'd been wearing my clothes for six months. I told him to stop or I would leave him. He lost his job six months ago and says he has be en feeling increasingly depressed and worthless. I love him very much, but ever since I gave him the ultimatum he has become increasingly distant. I don't feel I can get through to him anymore. Can you please help?

Sincerely,

Sheila Lusk

*******

Dear Sheila:

A car stalling after being driven a short distance can be caused by a variety of problems with the engine. Start by making sure there is no debris in the fuel line. If it's clear, check the clips holding the vacuum hoses onto the intake manifold. If none of these approaches solves the problem, it could be that the fuel pump itself is faulty, causing low delivery pressure to the carburetor float chamber. I hope this helps.

Walter
---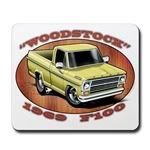 DeWayne
haha....... love the advice!!!!!!!!!
---
Keepin' The Old School Alive
Roflmao......
---
Quote:
Originally Posted by Cmarsh93z
Don't Fuck with DFWStangs...the most powerfull gang I have ever been a member of.
Time Served
Join Date: Nov 2007
Posts: 846
great advice. thats funny!
---
]
yes, jluv
Join Date: May 2001
Posts: 17,073
Join Date: Apr 2005
Posts: 111
That's how I would have answered it.
Fuzzy Flounder Fishin'
Join Date: Nov 2007
Location: On the express train to management training in hell.
Posts: 2,547
he forgot to mention to at least check and make sure there is fuel in the tank..
---
┌∩┐(-_-)┌∩┐
That's directed at you, UHHHbama