Know when to say when
---
Two good friends are out drinking one night over the Christmas holidays and one is getting particularly smashed. Pretty soon, he gets sick and throws up all over his own shirt. He tells his friend he needs to go home but his buddy tells him he'll feel better now that he's puked. But the guy insists his wife will kill him for puking on his clothes. So his friend tells him to put a $20 bill in his shirt pocket and tell his wife that some guy threw up on him and gave him $20 for the cleaning bill and an apology. Sounded good at the time, so they continued drinking for a couple more hours. Finally, the guy goes stumbling drunk into the house. The little woman is waiting for him and starts in on him. "You reek of alcohol and your shirt is a mess!" In his best attempt to sound sober he says, "But you misunderstand. A guy puked on me by mistake and stuck $20 in my pocket to get the clothes cleaned." Thinking he might just have pulled this off, she reaches into his shirt pocket and says, "There's $40 here". He goes, "oh yeah, I forgot, he shit my pants too."
---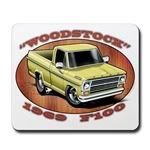 DeWayne
Been there, done that, still got the shirt (but I tossed out the rest).
---
Quote:
Women: vaginal life support.
Time Served
Join Date: Nov 2007
Posts: 846
Time Served
Join Date: Nov 2005
Location: TX
Posts: 97
Time Served
Join Date: Feb 2005
Posts: 106
Lmao!
---
Trying to be fast...
67 Coupe w/408 Beast
96 GT Vert Body but all diff drive train
Join Date: Apr 2004
Posts: 45
Join Date: Apr 2004
Posts: 45
Time Served
Join Date: Jul 2007
Location: Sierra Vista Arizona
Posts: 569