Blonde Joke ..... made me laugh
---
Blonde Handywoman
>
A blonde, wanting to earn some extra money, decided to hire herself out as a "handywoman" and started canvassing a nearby well-to-do neighborhood.

She went to the front door of the first house, and asked the owner if he had any odd jobs for her to do.

"Well, I guess I could use somebody to paint my porch," he said, "How much will you charge me?"

The blonde quickly responded, "How about $50?"

The man agreed and told her that the paint and everything she would need was in the garage.

The man's wife, hearing the conversation, said to her husband, "Does she realize that our porch goes all the way around the house?"

He responded, "That's a bit cynical, isn't it?"

The wife replied, "You're right. I guess I'm starting to believe all those 'dumb blonde' jokes we've been getting by e-mail lately."

A short time later, the blonde came to the door to collect her money.

"You' re fin ished already?" the husband asked.

"Yes," the blonde replied, "and I had paint leftover, so I gave it two coats." Impressed, the man reached into his pocket for the $50 and handed it to her.

"And by the way," the blonde added, "it's not a Porch, it's a Lexus".
Hahahahahahahahahahahahahaha
---
Nice. LOL.
---
RIP Aaron Degrand.
Quote:
Originally Posted by Cooter
that's like saying pussy is over rated... or oxygen... BULLSHIT!!! too much HP is almost enough!!
Sex is alot like math...
Add a bed... Subtract clothes...Divide legs...And pray you don't multiply.
Time Served
Join Date: Jun 2004
Location: Temple
Posts: 463
HAHA that's awsome
---
95' drop top, lowered, systemax heads, bbk exhaust, msd 6al, 65mm tb, pullies, cobra intake, 3.73's and more to come. 14.6 @ 96mph before 3550 and intake swap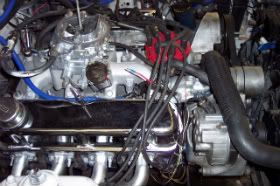 96' bird 6spd 14.3 @ 98mph - sold
89 carbed coupe rollin the streets
Time Served
Join Date: Oct 2006
Posts: 423
jajajajajajjajajajajajajaja
loljajajajajjajajajajaa
Ya Dats my Wifey!!!
Join Date: Jul 2002
Location: Terrell
Posts: 5,806
Lol!
---
89 Coupe *Runs*
91 GT *Almost Complete*
03 Expedition *Wifes Daily*
08 F150 Super Crew *My Daily*