Time Served
Join Date: Aug 2006
Location: East Fort Worth
Posts: 574
Best way to get started
---
If you've never really lifted weights before whats the best way to get started? As in how do you know what to do reps of and how much weight, etc?
---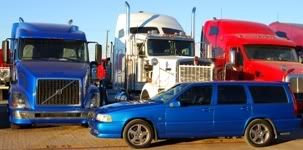 NOTHING happens until somebody SELLS something
'00 V70SE '05 Ranger Edge
'00 Volvo V70R Laser Blue 1 of 20, 1 of 1 with 6 speed swap
300AWHP/400TQ
I was always behind the curve in terms of lifting until I got to college. I just decided to go in there one day and figure out what I could lift. Started small and worked my way up until it got hard.

I took a notebook with me and recorded what I could do. Then came home and set up a plan. I concentrate on 3 sets of 8 reps where I am failing at or just after the 8th rep.
AHMO!
Join Date: Apr 2004
Location: the original let me google that for ya guy
Posts: 16,810
Notebook and bodybuilding.com

Find a routine that suits you and stick to it. You can find all the exercises you should/can do for that particular muscle group and day. The notebook will help you keep track of what you did last time so you aren't constantly racking weights trying to remember, or if you put on to much or to little.
exrx.net is a good resource too. Shows you how to do a lot of the exercises.