Monoprice
---
I saw the link someone gave out to Monoprice, but I don't remember what thread. My question is, how good is the quality of the hdmi cables? They are really cheap, but do they deliver like the Monster cables and other main stream manufacturers?

I am trying to get a better hdmi cable for my blu ray, but i dont want to spend an arm and a leg for the same results I already have.
needaho
Join Date: Sep 2000
Location: next to the Watauga PD, Tx (I'm a dumbass)
Posts: 636
monoprice makes awesome quality stuff, my roomate owns an A/V company that does high end installs and he uses monoprice for almost all of his cables and mounts. The only thing I have heard him bitch about it their articulating lcd mounts. I have their kevlar in wall speakers in my bedroom for surround sound, they kick ass.
---
88 gt (waiting to be built when I get my mid-life crisis)
2002 honda civic SI looks ricer without the damn pipe!
IBTM...

Monoprice cables are great and very good quality; HDMI is digital, either all the data makes it or it doesn't, all those over priced cables are a joke. Once you start making runs of 50' or more, you can run into problems with HDMI, but that is a limitation of the standard more than the cable IMO...
---
"Apres moi le deluge"
Punk Ass Newbie
Join Date: Sep 2007
Posts: 62
You won't see the difference between their cables and Monster. Their stuff is good quality for the price. I bought mounts for both of my LCD's there along with all of the cables and it's been nothing but good stuff for me.
Time Served
Join Date: Jun 2003
Location: Frisco
Posts: 429
What do you mean by "better" HDMI cable exactly? HDMI is a digital signal so they're really aren't "better" and "worse" HDMI cables, unless you are running over 25ft.
Check this out:
http://reviews.cnet.com/hdmi-cable/
The only thing that is "better" on some vs. others is the connectors. Some of the cheaper connectors can break after a few insertions.
I have all Monoprice cabling, and my system includes an Onkyo HDMI input/output receiver with:
- PS3 via HDMI input to receiver
- XBOX 360 via HDMI input to receiver
- Wii via component input to receiver
- HD DVD player via HDMI input to receiver
- DISH HD DVR via HDMI input to receiver
- HDMI output to Samsung DLP
No issues at all.
---
Half the world is composed of people who have something to say and can't and the other half who have nothing to say and keep on saying it. In other words - JUST SHUT UP!

2005 Silver Mustang GT
Don't drink the Monster kool-aid, Monoprice cables are top notch!

I've bought a ton of cables from them, and not once have I had an issue... including 2 50ft HDMI cables that go to a ceiling mounted projector (which tend to be problematic).
---
I bought a 25ft "premium" HDMI and a DVI adapter from them to use my 42" LCD tv as a monitor and the picture quality is perfect...no delays or anything that I have found. And I bought the Flat cable so I could run it under the carpet and you cant even tell its there.
I highly suggest using them
---
Wake up and smell the Taco
Quote:
Originally Posted by Undertaker
I just crave meat...so any of those places is always good to me
Quote:
I never got the "talk" from either of my parents
"If it doesn't say Monster, you didn't pay enough."
---
93 Teal/Gray Cobra
I have bought a couple TV mount's and sent a couple friends to buy TV Mounts from them. Everyone has always been very impressed. I have moved my current mount to a new house and all the bolts, equipment I was able to reuse again. As everyone else has said I am sure there HDMI cables are no different.
I haven't bought any yet, but was planning to within the week. Monoprice is all they talk about over on the avsforums. Some guys prefer
http://www.bluejeanscable.com/
for their RCA's still, but they're 3x the price. I figured even if I tried Monoprice and their cables suck, I'd only lose a couple bucks....what's to lose? Like everyone said here though, everything I've found states they're top notch....and from their reviews on their site their customer service seems very good as well as far as replacing bad cables etc.
Anyone used their Keystone wall plates and jacks. I was planning on running some cat5 and some other audio/video between rooms and they seem dirt cheap on this stuff as well compared to the Levitron stuff from HD, etc. Reviews seem positive for the most part, except that most of it doesn't come with relief boots...
---
Whippled '06 by Gearheads - 474rwhp 450rwtq @ 10psi and a few other Borla/Steeda/BMR/CHE/Tokico mods...
Gearheads Dyno Video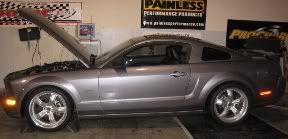 I just ordered a whole bunch of shit through monoprice last Saturday and still isnt here. It seems their storefront is in Cali and the stuff ships out of Canada. That much be why its so inexpensive I guess. Just sucks though because I have 2 LCD's and a projector setup I cant finish till I get that shit.
Damn good prices though!
Home depot carries alot of that cat 5 stuff also! I dont know about as cheap as monoprice though. Also HDMI cables, wall plates etc.