Punk Ass Newbie
Join Date: Dec 2000
Posts: 36
fox body aftermarket speaking install
---
I've got an 88 LX I put some infinity speakers in. Speakers are awesome though I've noticed they don't seal in the door/dash enclosure like the OEM's did. Seems I've lost some of the low end because they're essentially operating completely open air. I know the door itself is far from enclosed. Just thought I could gain some low end response back with something that might seal the speakers, an adapter or something. You guys have any ideas? I guess same goes for rear 6x9's any small enclosures that could attach to the back of the rear speakers?

Thanks a bunch.
You might look into something like this.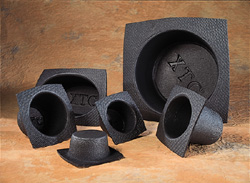 Crutchfield offers a bunch of different options for speaker enclosures including these foam baffles.
Foam Baffles
---
2008 Lincoln MKZ
1995 Mustang GT Convertible
2002 F-150 SuperCrew

1995 Ford Taurus SHO
2003 Yamaha R6
that and maybe some dyno matt.
Get a crossover on them and put more power and youll get alot of midrange bass but those infinity speakers arent really made for alot of low range.
Punk Ass Newbie
Join Date: Dec 2000
Posts: 36
evil jose and FunFordCobra.....

Thanks for the insight. After doing some measurements seems a shallow foam baffle will work in the rears, the front doors have very little clearance behind the speaker cause of the window and glass runner channel. I'm laying/cutting dynomat now for the doors now. Thanks again....

Anyone know where I might be able to obtain positive/negative color wire reference to all the 6 speaker locations? I could also be fighting a phasing problem, though it's hard to tell without knowing for sure what wire is positive or negative.

Thanks
Punk Ass Newbie
Join Date: Dec 2000
Posts: 36
After squinting at the wiring diagrams long enough I came up with the following for the speaker wire association:

Left inst:
LB/W gnd
O/LG vc feed

Right inst:
DG/O gnd
W/LG vc feed

Left door:
LB/W gnd
O/LG vc feed

Right door:
DG/O gnd
W/LG vc feed

Left rear:
PK/LG vc feed
PK/LB gnd

Right rear:
PK/LB vc feed
DG/O gnd

I'm using the 9volt battery to speaker terminal test for correct terminal orientation/phasing. Positive to positive, negative to negative, the cone should pop forward.

I think I'm home free, thanks again.
Sorry I didn't catch this earlier. I have no idea on the speak wire color but I would have suggested trying the same thing with the 9 Volt battery
---
2008 Lincoln MKZ
1995 Mustang GT Convertible
2002 F-150 SuperCrew

1995 Ford Taurus SHO
2003 Yamaha R6